Top Five Worst NASCAR Crashs
Hang on for a minute...we're trying to find some more stories you might like.
Top Five Worst NASCAR Accidents
#5. Okay we are starting off pretty bad. This first occurred in 1990. The race track that this happened was Bristol Motor Speedway. When Michael Waltrip sent his car in turn 2  and crashed. The impact was so great that it tore half of his car off. Michael walked away with a concussion and a little bit of confusion of what happened. His older brother Darrell, was surprised that he walked away. Just twelve years later, in 2002, Mike Harmon crashed in to turn 2. He also walked away just fine.
#4. In 1970 at South California, Darlington speedway Richard Petty hit the retaining wall with his Plymouth Roadrunner and flipped many times. It was a brutal crash that left fans thinking the worst. He was okay and not hurt. Then, NASCAR ordered that protective nets be installed in all NASCAR racing vehicles and neck safety. At least something bad came out good.
#3. Just seven laps in the 1964 world 600 at the Charlotte speedway, the driver Glenn "Fireball" Roberts avoided a crash by Ned Jarrett and Junior Johnson.  As a result, Roberts slammed into the wall, where his car rolled over and burst into flames. The crash left him with burns over 80% of his body. After fighting to recover, Roberts developed pneumonia, fell into a coma, and unfortunately passed on July 2, 1964.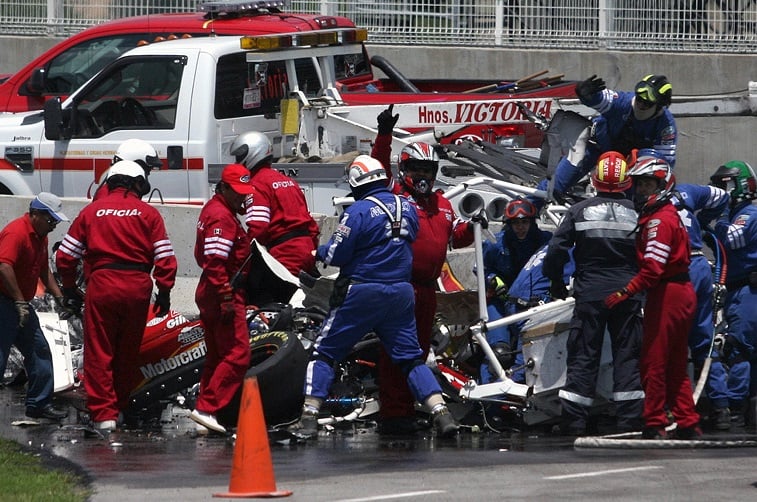 #2. Carlos Pardo managed to win eight of the 74 NASCAR Corona Series races he participated. Unfortunately his last win was cost him his life. In 2009, during the Mexican Series race at Puebla, Carlos was on lap 97, when his car was tapped from behind, causing him to spin out of control and smash into a wall behind the pit lane at 120 miles per hour. His car was wrecked and he had to be airlifted to the hospital. While Carlos was awarded the win because his car was out in front at the time of the crash, that detail doesn't make this incident any less tragic.
#1. The sport of NASCAR suffered the lost of one of it's most popular and iconic figures on February 18, 2001, when legendary driver Dale Earnhardt fatally crashed during the 2001 Daytona 500. It all started when Sterling Marlin's Dodge hit the rear bumper of Earnhardt's car and sent him spinning into the middle of the track. Ken Schrader was unable to get around Dale's car. Ken hit the passenger side door head on, sending him into the wall at 115 miles per hour and then pushing the car down the track. Following the news of his passing, NASCAR president Mike Helton said, "This is understandably the toughest announcement I've ever had to make. We've lost Dale Earnhardt."